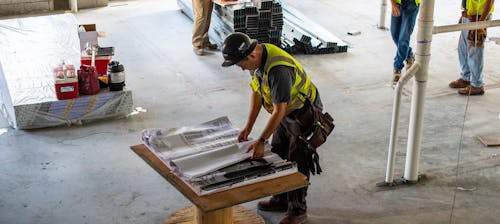 Evaluating New Technology in the Drone Market
John McDermott, Virtual Design and Construction (VDC) Manager at KAST, along with his supervisor, Rob Sloyer, Director of Technical Services, are responsible for researching and implementing new technology on construction sites. Seeing a continual rise in drone use throughout the industry first alerted them to the possibility of regular drone use at KAST. Still, as their jobs dictated, they remained skeptical of the value drone data could provide. While they didn't want to miss the opportunity to use new technology, the higher up-front cost of building a drone program remained high.
After educating themselves on the product and familiarizing themselves with the terminology, the pair decided to try out drone software. "Remaining educated on your topic of interest is still the most important thing in implementing new technology," Rob explains. The next logical step was getting project teams to realize the added value of these services, without hard dollar amounts.
KAST joined DroneDeploy in December of 2019, after experimenting with numerous drone software and drone service providers. Critical to their decision was DroneDeploy's integration with Procore and features desirable to KAST's work, such as 3D models, panoramas, and project file overlays. Overall, the ultimate deciding factor was DroneDeploy's Flight Services, a subset of the Professional Services team that elevates businesses with on-demand data collection. With this model, users can order drone flights and pre-vetted pilots to their site at a given time and location, with results delivered to their DroneDeploy app within a couple of days.