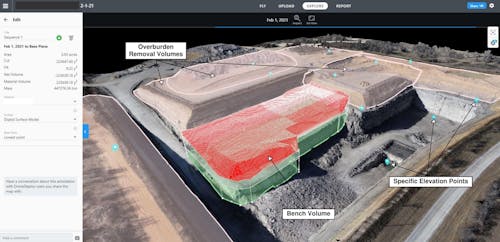 Exploring Drone Data with Stockpile Inventories
Jaimie Addy is a U.S. Land & Resource Supervisor for BURNCO, with an extensive geology and mine engineering background. As the primary contact for securing new land to mine or use in concrete production, tracking reserves and stockpile inventory is a crucial part of his day-to-day workflow. But soon into the job, he realized that BURNCO was running into problems common in the industry: measuring stockpiles by hand was dangerous and frequently inaccurate compared to accountants' figures.
In early 2015, Jaimie identified generating stockpile reports as a prime use case for drone technology and set to work on proving to his finance team that the insights gained were worth the price. Jaimie began with flying entire mine sites, mapping exact boundaries of mining sequences before, during, and after performed work – a pivotal piece of information for reclamation purposes. After each flight, he would show his finance team the tens of thousands of data points he collected per stockpile, as compared to the 20-50 they received manually. When measuring the opportunity cost of physically crawling around stockpiles and finding new sites, the results were clear, and he received the go-ahead to start BURNCO's internal drone program.