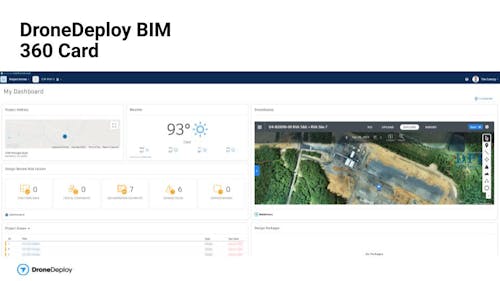 DroneDeploy's Autodesk Construction Cloud Integration
Unifying data through meaningful integrations allows for an improved design, plan, and build process. Likewise, having access to the same exact drawings, models, and documents, so each team is working off of a single source of truth, brings tailored solutions to each stage of building development. With the DroneDeploy and Autodesk Build and BIM 360 integrations, users can create universal dashboards throughout the project lifecycle. For those already familiar with the software, simply add the DroneDeploy partner home card to your project dashboard. This way, any uploaded design files from Autodesk Build and BIM 360 will be automatically imported to your DroneDeploy account, or vice versa.
With this information, users can then overlay high-resolution imagery, aerial maps, point clouds, elevation layers, 360 photos, and more onto BIM 360 project files, promoting easy design revision. Similarly, issues tagged in DroneDeploy will auto-sync with BIM 360 issues so integration users can provide immediate feedback on work progress, identify and resolve issues, and pinpoint safety concerns. This illustrates the importance of standardizing how you're managing your data – as you use both tools, you can perform various types of analysis at scale to find further opportunities to automate daily tasks or discover new insights.