DroneDeploy and Skydio. Ready for work.
Seamless integration between DroneDeploy and Skydio will help you analyze photos, videos, and panoramas to assess issues or changes needed on site: 
Low altitude flights. Fly closer to what you are inspecting with full confidence to capture higher-resolution imagery.
Complex mapping. When mapping a complex environment, capture imagery from low altitude to capture vertical structures. 
Decreased risk of crashes. Skydio's 360° obstacle avoidance lets your entire team fly with confidence, no matter their training level or the complexity of the job site.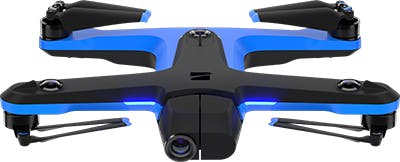 More About Skydio 2.
Skydio 2 (S2) combines AI-powered flight autonomy with a compact, lightweight airframe. S2 delivers unique features and characteristics:
Real-time 360° obstacle avoidance. S2 reduces the risk of crashes and turns anyone into an expert pilot. 
NVIDIA Tegra TX2 with 256 GPU cores. S2 brings industry-leading computing power to the edge of your infrastructure to automating data collection for inspection. 
US-Based. S2 is designed, assembled, and supported in the USA.