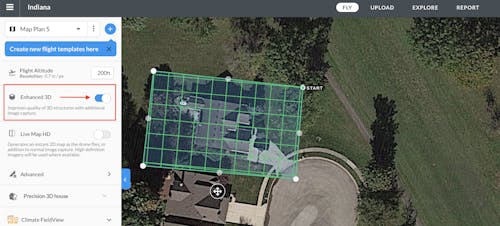 Using DroneDeploy for Surveying & Design
In the early days of pre-construction, it could be time-consuming to gather critical details about topography and potential job sites. Gathering data with traditional ground surveyors often took days to generate data about a new site. And even then, teams could only return data that was as accurate as the grid size. The data processing and delivery of a report could take weeks.
Today, companies are turning to a faster, and more efficient method of surveying: drone technology. A single drone flight can capture hundreds of images and cover over 100 acres in under 15 minutes. Once those images are uploaded to DroneDeploy, companies can garner vast insights about an area's topography and receive a survey that's accurate down to the centimeter. The result is an exact high-resolution map and 3D model of a job site - all processed in a matter of hours.
When it came to using drones for surveying versus traditional methods, "[DroneDeploy] paid for itself several times over," said Michael Lambert, VDC Manager at Chasco Constructors, a Texas-based construction company. Chasco saw a 75% cost savings for surveys through using DroneDeploy.