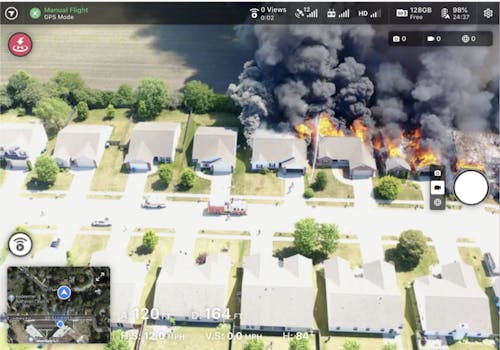 Live Streaming and Live Map Analysis
DroneDeploy's Live Stream provides real-time drone video for incident response and remote collaboration. This allows disaster management teams and emergency responders to view a secure video stream remotely, and get vital insights into the unfolding situation. Those first on the scene can send a link to the appropriate parties for immediate context to missions - facilitating collaboration while also improving situational awareness and response times.
Live Map similarly powers real-time insights in your field with nearly instant data capture and reporting. This enables users to scour hundreds of acres of land via high-resolution, interactive maps. By eliminating the need to physically walk through each section, teams can focus on analysis and victim identification - aided by annotations and comment sharing.
Thermal Imagery Visualization
Drones equipped with infrared cameras or sensors can visualize temperature range variability, allowing for thermal map generation within DroneDeploy. Finding a person's heat signature is the first step to rescue and recovery. The appropriate drone application provides this critical viewpoint by peering through smoke, fog, darkness, and vegetation to find victims. With its unlimited viewpoints, seemingly infinite degree of insights, and precise documentation, drone technology has already proven essential for locating survivors in the wake of natural disasters.