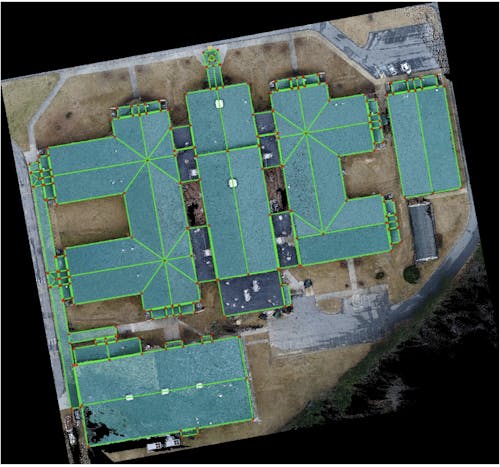 Common Uses
Residential and commercial property managers need to keep their buildings within regulation by routinely checking that their facilities are up-to-code. Common problem areas can include the roof, pavement, HVAC systems, landscaping, and building exteriors. Rather than relying on different teams of subcontractors to pinpoint these areas of concern, property managers can use drone imagery to gather high-resolution images of their properties and gain real-time insights into these areas.
For example, flying a drone over your roof or parking lot can identify cracks or other defects. It can also provide detailed measurements of those surface areas. These measurements can then be used in conjunction with your Roof Report, a tool on DroneDeploy's App Market, which turns your maps into a complete roof plan within 48 hours. This is perfect when sourcing information for roof repairs and insurance estimates.
The most common way drones are used in property management is to simply map each estate. Having a detailed map of each property is beneficial for future planning as these maps can aid in design plans (maps display building exteriors, landscaping, and HVAC systems in addition to interior support). This is especially valuable for residential solar companies when creating solar design plans, as well as insurance companies when evaluating roof weather damage.