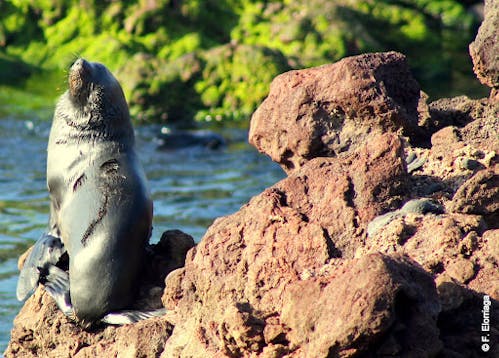 The Challenge: Counting Newborn Fur Seals
Currently, the Guadalupe fur seal population is threatened in the U.S. and needs consistent record counts to ensure its protection. Thought to be extinct in the early 1900s, the fur seal is making a cautious comeback. But, unfortunately, the only known breeding site for these seals is Guadalupe Island, a remote, volcanic island off the coast of Northern Baja California. Still, scientists regularly venture to the island to count fur seals during breeding season.
Tenaya Norris, a California-based Marine Mammal Biologist, has spent countless hours tracking these seals with a group of scientists in Mexico lead by Fernando Elorriaga-Verplancken. The activity is laborious, intrusive, and sometimes dangerous. Seals often hide behind rocks and crevices, and counting these animals often involves flushing or moving them, including moms and their pups. "Sometimes, these pups are only a day old, so that disturbance can be significant," explained Tenaya. In addition, Tenaya noted that the activity of ground counting is also potentially dangerous to scientists.