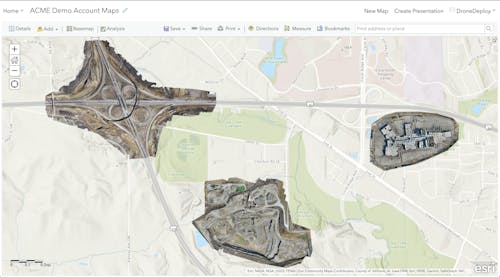 Energy
It's common in the energy sector to have surplus yards where excess inventory and assets are managed. As one could assume, these yards are often large in size and are home to a myriad of assets from multiple sites and projects. Because of this, it's possible contents aren't accurately documented. And when a new site opens up, equipment is frequently repurchased rather than reused. If organizations used drone technology for asset tracking, additional funds could be saved by precisely knowing what's in the inventory yard, avoiding duplicate pieces of equipment.
The same can be said for well construction and compliance within the oil and gas industry. When these wells are constructed, organizations need to document these assets and their accompanying equipment in order to prove compliance to regulators. However, because of the scale of these projects and their propensity to involve multiple contractors and subcontractors, it can be difficult to know what's actually out in the field. With the Esri integration, these assets are easily identifiable.
Esri documents the location of your job sites and their current status. Instead of relying on Google Earth imagery (which is updated once or twice a year), or a costly satellite imagery subscription, users can use a drone to document their site through every stage of their operations. Using DroneDeploy software, your most recent maps – accessible by everyone on your team – will clearly show site compliance with regulations, as well as visual evidence of its current status. If a site has been closed down outside of regulations, it will be highly apparent to users that changes need to be made.