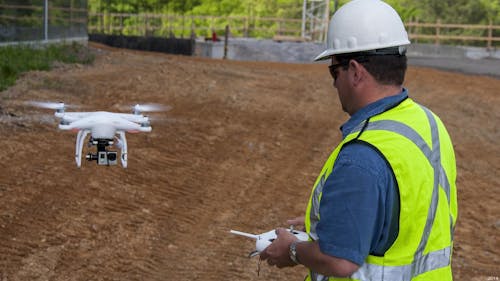 Improving Transparency
Lack of transparency on a job site mainly pertains to a lack of communication between involved parties. Whether details are missing or simply not conveyed, communication and transparency issues can be highly detrimental to construction projects. But one of the significant advantages of utilizing drone data is that it can help improve execution at various stages of the construction process – from planning through to the surveying – streamlining communication and improving transparency.
Drone technology also eliminates the need for manned aircraft, such as helicopters or planes. Using these traditional methods to perform surveys or document project progress is time-consuming and exorbitantly expensive. Critical, cost-efficient, and lightning-fast, drone data provides teams instantly available information to all appropriate stakeholders.
To make matters more transparent, drone technology (as compared to conventional manned aircraft) can automatically send data to the construction manager or the contractor. This process occurs much faster than manned aircraft and with much greater accuracy. Creating these 3D reconstructions during the construction process is the only way teams can integrate a 3D model along with high-resolution drone photography.
Additionally, integrating ground control points and elevations with the data generates a complete picture of any job site, resulting in far greater transparency.
With all employees working from the same information, this previously unattainable level of transparency will not only reduce errors but remove rework that would otherwise be necessary. DroneDeploy customer Brasfield & Gorrie experienced success in the form of thousands of dollars when, on one particular project, drone data enabled them to save over $10,000 by avoiding rework on their project.