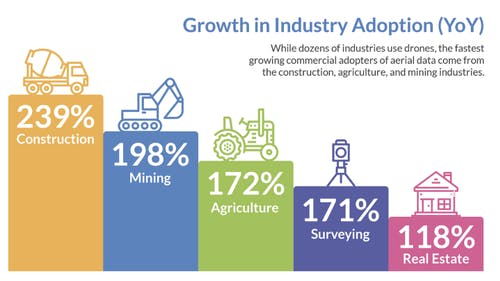 While dozens of industries use drones, the fastest growing commercial adopter is the construction industry. Drone use on the job site has skyrocketed in the last year — surging 239% — and construction is now the leading sector using DroneDeploy.
With growth like that, you probably have some questions. How are companies putting drones to work? Who exactly is benefiting from drone data? And what are the results?
In this post, we share some recent insights uncovered from analyzing the latest DroneDeploy user data. Read on to get the most recent trends and statistics from drone data captured on 400,000 job sites in 180 countries.
Who's Using Drones on the Job Site?
We talk a lot about what's possible with drones on our blog, but who is actually taking advantage of the technology?Project managers, technology managers, and superintendents are the top roles benefiting from drone data to date.