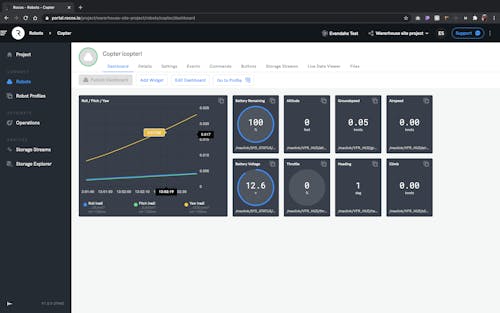 2: Review past incidents with storage streams
Whether your robots are basic or highly sophisticated, things will occasionally go wrong. And you might not be staring at the dashboard when that critical failure happens. Even if you are watching, it can be hard to diagnose the root cause of a problem in real-time. There may be hundreds of potential causal connections between processes, resources, and the environment your robot is operating in. 
For example, imagine your robot experiences a sudden and seemingly random failure in path planning. This failure keeps reoccurring at approximately the same time every day. After a lengthy investigation, you realize that light coming through a building window at a specific time of day is causing overexposure on the robot's sensors. This means the robot is unable to detect its environment accurately. 
This scenario highlights the importance of being able to analyze historical data. Rocos offers the ability to use storage streams - data that's captured perpetually and stored for later analysis. When a failure occurs, you can go back to that moment in time and dig into the relevant telemetry to figure out what happened. You can also compare historical trends and data streams across different robots and contexts to identify important patterns.
3: Stay informed about critical issues 
To effectively monitor a real-life system, you also need to be told when urgent or critical issues happen. That's where 'Events' come in. 
In the Rocos platform, an Event is made up of a trigger and an action. The trigger defines a certain aspect of telemetry, and when it crosses a specific value threshold it raises an Event. This leads to an action, which is generally a webhook or API endpoint that calls on the system to notify someone. 
For example, your trigger might be a robot's battery level falling below 20%. When this occurs, the action might be sending an automated SMS or Slack message to the robot's operator. 
Importantly, you can also use the Rocos platform to send a command back to the robot. For example, if the battery level falls below the defined threshold this can trigger a command for the robot to return to its charging station. Or if a robot reaches a certain GPS waypoint, the platform can instruct the robot to remain still, while also sending a notification to a human security guard telling them that the robot needs clearance before entering the next area.