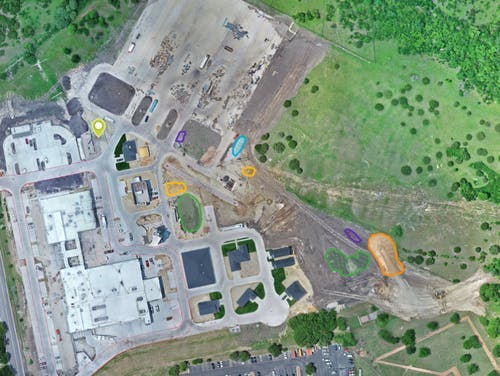 Survey Grade Information Faster & Safer
As any construction professional will tell you, site surveying takes a considerable amount of hours, and therefore funds, from the total project budget. As project managers juggle work hours and contractor limits, reducing the time and personnel needed to conduct these surveys can make the difference in a project's success. Utilizing a drone equipped with DroneDeploy optimizes these processes and gives workers considerable insight into their tasks at hand. One can never be disadvantaged from having more data in construction.
Chasco Constructors, a DroneDeploy customer located in Round Rock, Texas, used drone data to complete their public safety training center project ahead of schedule, with a 75% increase in cost savings. This 65,000 square foot structure (a $29 million project budget) was completed early thanks to information received from drone surveys. What used to take construction teams at Chasco a few days in manual inspections was reduced to a couple of hours with minimal workers. This example proves how standardizing survey deliverables speeds up project timelines. Plus, with a referenceable standard of measurement, results are easily replicated. The removal of construction workers from the site further promotes project safety by focusing on analysis and pinpointing issue resolution.