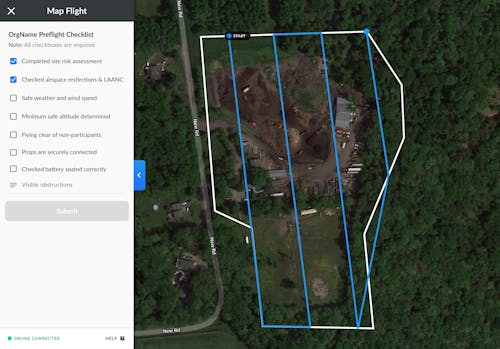 Compliance and Pre-Flight Checklists
To ensure all pilots are in compliance with both federal and local regulations, consider custom pre-flight checklists. While DroneDeploy already provides a standard model that automatically activates when you begin your flight, users now have the option to add customized requirements.
Additionally, this records the individual pilot's digital credentials and responses for each flight in case of an incident occurring. Custom checklists also work offline and block a flight if there is an incomplete checklist.
With our partnerships with Airbus UTM, we have made it extremely easy to acquire LAANC authorization in controlled airspace. LAANC authorization minimizes the risk of drone crashes, property damage, or danger to individuals on-site - and all of this critical information is automatically stored in the flight logs.
We have automated reporting for all program owners with one simple, consolidated report. The Compliance Report organizes all information about pilots and equipment. It also provides alerts, such as pilots without certification details or expirations, unregistered drones, outdated equipment, and the number of recent flights, pilots, and projects. With little effort required, scaling a drone program is easy with centralized compliance data.