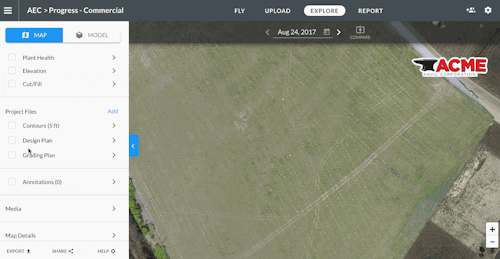 A Streamlined Workflow: Overlay As-Planned to As-Built
With a host of competing priorities, it's unsurprising that some construction tasks fall through the cracks. DroneDeploy optimizes these workflows and priorities for construction companies.
One construction-specific tool helpful for those in the industry is DroneDeploy's Project Design Plan (CAD) Overlays. Workers can import, overlay, and view design plans directly over their flight maps with this tool. And with a side-by-side record of progress, costly mistakes are caught early, avoiding rework altogether.
VDC Managers use this feature to compare CAD drawings to a project's latest drone map, allowing the user to monitor grading vs. elevation, conduct route plans, and pinpoint safety concerns from the get-go. DroneDeploy customers often fly routinely throughout a project's life cycle, so VDCs and other stakeholders are looped in on comparing as-planned to as-built designs.
Brasfield & Gorrie, for example, used project design plan overlays with CAD drawings to verify work done on a handicap ramp. Just 12 hours before the concrete pour, using DroneDeploy, B&G discovered that their as-designed plans were different than as-built, saving over $10,000 in rework costs.
DroneDeploy's PlanGrid integration further supports Brasfield & Gorrie team members when reviewing data or processing requests for information. Workers can annotate maps, add teammates, and share projects with customers or owners in-app. This integration saves the team countless hours locating information and performing rework tasks, bringing context to every job site.