Before issue tagging within DroneDeploy, teams would perform inspections manually, taking individual photos with their phones and identifying each issue's location on a floor plan or location tag in their project management tool. This process can take hours to days depending on building size, which sacrifices time and accuracy, often leading to high rework costs for missed issues and project delays. 
Tagging issues and auto-syncing to Procore Observations or BIM 360 Docs can now be done in minutes by linking them to high-resolution images with an exact site location. The data becomes more reliable and user-friendly, enabling more thorough inspections, reducing labor costs, and avoiding rework. 
DPR Construction performed beta testing on the new integration and explained the value of establishing a single source of data truth between subcontractors and GC's during this recent webinar.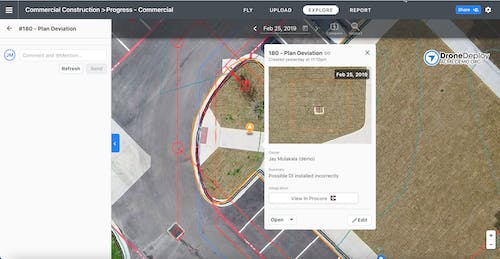 Syncing Issues can be utilized throughout the entire lifecycle of a project and is most commonly used during the progress tracking phase. On another recent webinar, our beta testing customer McCownGordon demonstrates the use cases of tagging issues for pre-construction, site management, and earthworks to provide time-critical details to all team members on grading activity and utility/infrastructure installation.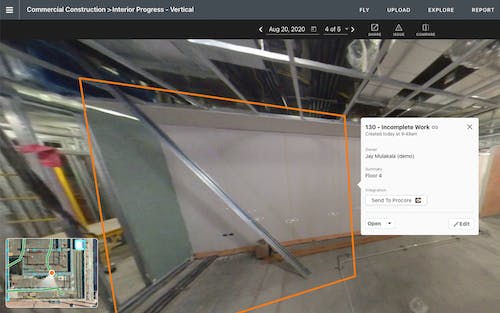 Interior inspections is one of the most common use cases where we see many trades performing drywall, framing, electrical or other work that needs to be validated daily or weekly. Quick issue tagging allows teams to stay on track and resolve any final issues in the project management solutions to finalize payout and confidently move on to the next phase.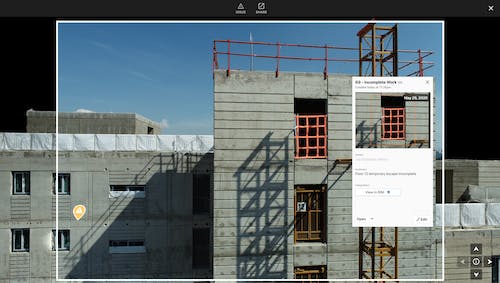 Use cases for exterior buildings are often to support facade inspections, with the issues automatically syncing once tagged after a quick drone flight. This not only reduces the company's liabilities and risks but saves on high labor costs and time as well as improved safety not manually inspecting from lifts or ladders.
Available to Enterprise customers with the Procore or Autodesk BIM 360 Integrations.