Many construction, energy, and property management companies invest thousands of dollars in swing stages or bucket lifts, and facade inspections themselves can take days to complete. The DroneDeploy Facade Inspection workflow removes the need for expensive equipment, reduces inspection time from days to hours, all the while removing employees from dangerous working conditions.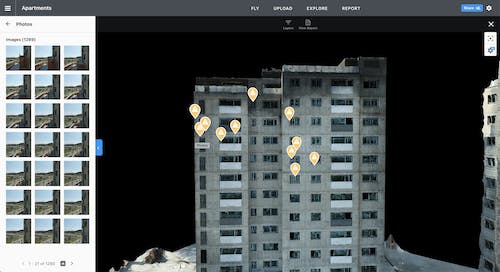 Vertical facade flight, along with our new facade inspection workflow, allows you to capture data and analyze digital representations within hours. In a fraction of the time and cost it would take to do a manual inspection, this new workflow also keeps more of your team safely on the ground. 
Easily navigate facades and annotate issues to identify hazards, confirm installs, check for imperfections, and assess OSHA compliance. Once documented, closeout issues with confidence using @mentions with teammates.
Property management companies are also conducting facade inspections to understand if any building exteriors need repair. Inspections identify weathering paint, cracks,  and issues with signage. Energy and utility companies are inspecting assets such as tanks and towers looking for defects that could cause issues in storage or distribution. Using DroneDeploy makes it easy to identify these issues, assign them to teammates, and store all inspection reports in one centralized location.
Facade Inspections are available for Enterprise, Facade-specific reporting coming later this quarter.