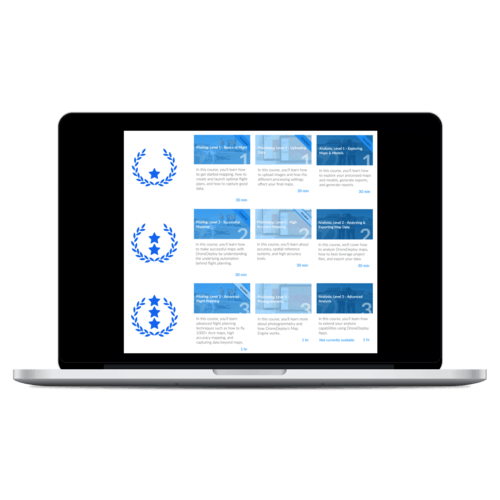 Master the Fundamentals
DroneDeploy Academy will teach users how to Pilot, Process, and Analyze information within DroneDeploy by progressing through three, increasing challenging levels. Guided by DroneDeploy experts, you'll learn practical, first-hand skills that directly apply to your business.
The fundamentals courses consist of three levels:
Level 1 courses enable users to get started right away with a DroneDeploy bachelor's degree in Piloting, Processing, and Analysis.
Level 2 courses expand upon your existing knowledge with a DroneDeploy master's degree by learning how to make successful maps, leverage high accuracy tools like ground control points (GCPs), and analysis changes across your site.
Level 3 courses are meant for users looking to become DroneDeploy experts. DroneDeploy Academy's highest level of training teaches you how to tackle challenging flights, how DroneDeploy's Map Engine works, and how DroneDeploy leverages AI to automate business insights.