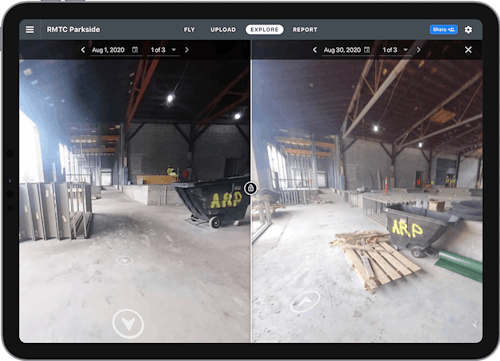 Employee Efficiency: Simplicity Drives Adoption and Accelerates Cost Savings
Technology designed to improve employee efficiency is only successful if it is adopted. And adoption is more likely when there is less training needed and requires fewer clicks to use the product. The growing number of robots and other technologies on job sites will make it much more difficult to drive adoption and usage. But integrated solutions that support expansive use cases across the construction lifecycle — without giving up power, precision, or accuracy — will be much better positioned to help companies achieve efficiency.
With a straightforward platform to learn and use, DroneDeploy offers the simplicity to increase adoption and accelerate workforce productivity throughout the construction lifecycle.
DroneDeploy not only aids in capturing data about interiors and exteriors during the construction stage of a project— but also delivers data crucial for planning, pre-construction, and handoff. For data capture, in particular, our software works with multiple drones for capturing aerials and most 360 ground-based cameras, freeing users from the constraints of having to purchase and learn yet one more software package to be able to use specific cameras.