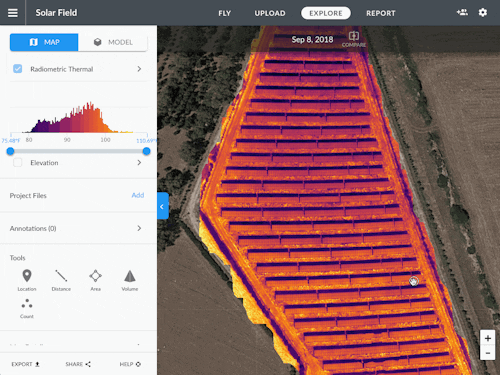 In our last How To piece about inspections, we highlighted some of the challenges workers face while performing inspections: constructing inspection scaffolding can be expensive, inspecting buildings can be dangerous at such great heights, and inspecting hundreds of wellheads can be time-consuming. But sometimes the dangers of construction go beyond heights.
Take, for example, the oil & gas industry: flare stacks are used for burning off unusable waste gas across a variety of production applications. This type of technology is highly pressurized and can be combustible, which requires frequent inspections. In order to manually inspect these flare stacks, production needs to be entirely shut down in order to safely send a worker on-site.
Performing thermal inspections with DroneDeploy now enables companies to perform in-depth inspections without shutting down production or putting workers in danger. These thermal inspections also allow them to catch issues as soon as possible, which, in the oil & gas industry, the difference between catching a leak in a minute as compared to an hour is paramount. 
Let's take a look at how to perform thermal inspections using DroneDeploy.