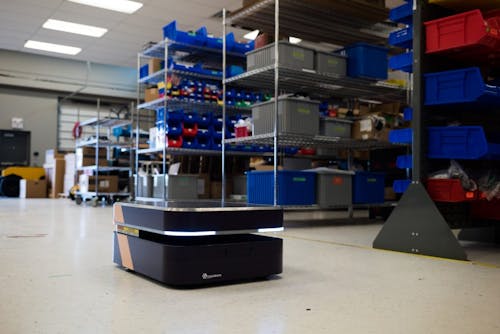 The Benefits of Ground Robots 
Just a decade ago, drones were an expensive and nascent technology. But now they're a critical data capture tool for enterprises around the world. Ground robots are on a similar trajectory. Although the hardware is still expensive, there's growing interest from enterprises seeking to use ground robots for critical tasks such as site inspections, data capture, and analysis.
"Looking back at the drone industry a few years ago, we saw a hobbyist product turn into an enterprise product very quickly," explained Peter King, Head of Robotic Solutions at InDro Robotics. "The technology became more sophisticated and affordable, until you could go down to your local BestBuy and buy a fairly inexpensive unit. Then more businesses started to see the possibilities of drones. The ground robotics industry is expanding as quickly from an enterprise point of view."
One of the most talked about models is Boston Dynamics' Spot – an agile quadrupedal robot that can carry payloads up to 14kg. Videos of Spot performing choreographed dance routines have gone viral, but the robot also has practical and exciting applications in the enterprise space, particularly in industries where data capture is critical. What makes Spot really unique is that it's designed to go into environments normally reserved for humans, instead of areas that are purpose-built for robots.
"Spot is a really capable robot. People are often blown away by what it can do – they can't believe it can walk up flights of stairs or avoid obstacles so smoothly," said Tim Dykstra, Director of Channel Sales, Boston Dynamics. "We have clients using Spot for remote teleoperation and sensing applications, who are seeing immediate value and beginning to scale operations."