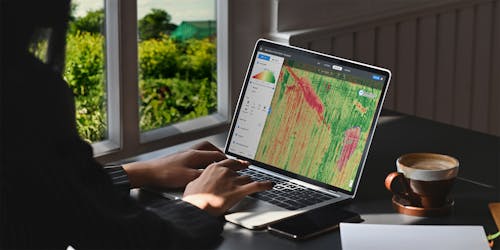 Opening Keynote
The welcome keynote kicked off Field Day and saw our CEO, Mike Winn, Head of Product, James Pipe, and Corteva Agriscience's U.S. Digital Ag Lead, Jeremy Groeteke, discussed new product launches to kick-off the 2021 growing season. The keynote also highlighted how DroneDeploy is continuing to transform fields across the world.
One of the notable moments came when Winn announced Stand Assessment. In a new partnership with Corteva, DroneDeploy's Stand Assessment removes the need for manual, time-consuming, inaccurate stand counts by providing an automated stand count workflow to capture and analyze the data needed to evaluate crop emergence. "In the same way, Live Map made real-time, offline mapping available to anyone," Winn remarked, "Stand Assessment will enable offline, real-time, stand counts for corn and soy."
Pipe went on to say, "With Stand Assessment, you'll be able to cover 200 acres in less than 15 minutes, with an interactive map and PDF report available just after the drone lands – entirely offline. This results in a more than 90% reduction in the time it takes to conduct a traditional stand count, with the deliverable report and interactive map available immediately to text or email to your client." 
Groeteke added, "With time being the most valuable asset we all desire more of, the only way to gain time is to be more efficient. This is where we see digital technology playing a key part in improving operational efficiency."
The agriculture industry is in the midst of a digital transformation. This first-of-its-kind partnership between DroneDeploy and Corteva is changing the way agronomists, seed companies, and thousands of others in the industry are running their operations.