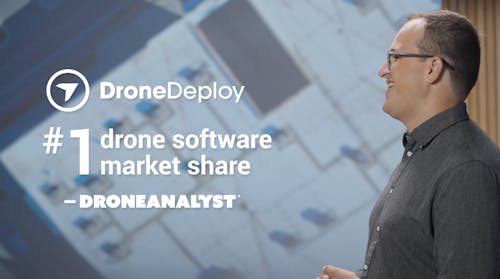 Opening Keynote
DroneDeploy Conference started strong with a powerful opening keynote from our CEO and Co-Founder, Mike Winn. With over 250,000 commercial drone pilots now registered in the United States, there's never been a better time to fly – and companies are taking note. In fact, our estimates state that drone programs are growing at a rate of about 30% per year, and we expect this number to continue to rise with increased investment. That's why, this August, we joined the ground robotics space with the acquisition of New Zealand-based robotic software firm, Rocos. In this way, we're continuing to push the boundary of reality capture, with additional product enhancements like Corridor Flight, 3D reconstruction, the DroneDeploy Walkthrough app, and more.
The Practical Application of Ground Robotics
In one of our most anticipated panel discussions, David Inggs, Head of DroneDeploy Ground Robotics, led a forward-thinking chat surrounding the adoption and implementation of ground robotics on today's construction sites. While the tool has made leaps and bounds since its initial introduction, the industry still has a long way to go, particularly when contrasted against drone technology. When discussing barriers to entry, Peter King, Head of Robotic Solutions at InDro Robotics, explained, "There's still a mindset that robotics are taking people's jobs, but those of us in the industry know that this isn't true. Most organizations are focused on integrations to help support current employees, not take their roles." Tim Dykstra, Head of Channel Sales at Boston Dynamics, agreed, and added that the company is focused next on autonomous indoor solutions for construction professionals.