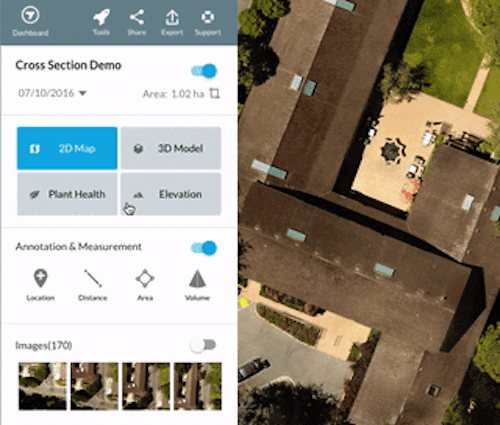 The elevation profile tool is available to all DroneDeploy paid customers and is part of the DroneDeploy free trial.
Contour Map Export
A contour map is a ubiquitous tool used for building and landscape design, construction and mine planning and more and is one of the standard outputs that surveyors deliver to their clients. To generate contour maps, surveyors traditionally use ground-based LIDAR stations to measure the elevation of thousands of points on the site in a painstaking, sometimes dangerous process that can take days or weeks.
Drones can capture much more detailed elevation data — millions of points — in a matter of minutes — but that can pose another problem. Many of the common software tools used to analyze elevation data and develop plans aren't prepared to handle the volume and granularity of information contained in a drone-generated 3D model or point cloud.
In the past, to address this issue DroneDeploy users manually reduced the granularity of their DroneDeploy elevation data by converting their maps and models to contour lines using third party software. However, this process was time-consuming and complicated. Our users asked for a better alternative — and with the release of today's new contour export tool, now there is one. It's as fast and easy as a few clicks to export an accurate contour map with DroneDeploy in a format that can be easily imported to your software of choice.