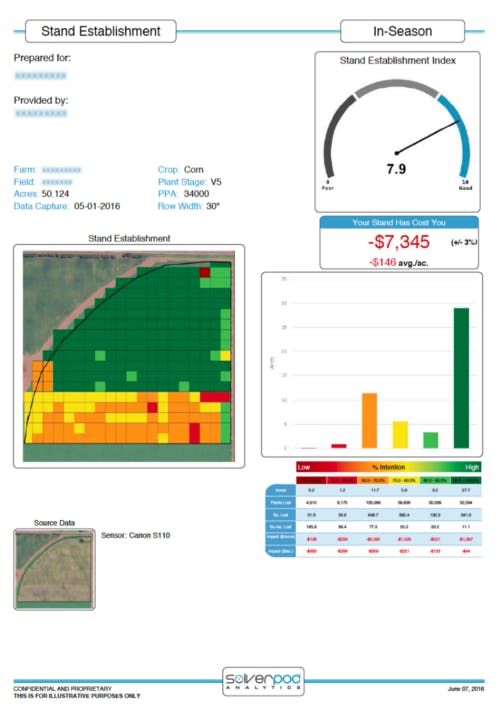 The analysis calculates the economic loss on the field and offers the opportunity to take preventive or corrective actions to mitigate seed emergence issues. Output includes detailed stand gap mapping, a PDF report highlighting the economic impact, and a zoned shapefile that you can use to make better decisions about where to where to apply inputs.
The sample report (left) highlights loss of emergence on an irrigated corn field showing a zone where a different hybrid was planted with unsatisfactory results. This field had a $7,000 loss of emergence due to poor hybrid placement which will enable the grower to both make better decisions in next year's planting and better apply nutrients to where they are best utilized during the current growing season.
A Faster Way to Count Crops
The second tool comes to us from a Serbia-based agriculture tech company called AgriSens that's combining aerial imagery with computer vision to help growers count individual plants. Where the Aglytix tool focuses on commodity crops like corn and soy, this AgriSens tool shines with seasonal row crops (e.g., tomato, sunflower, potato), in early growing stages and in perennial plantations throughout the year.