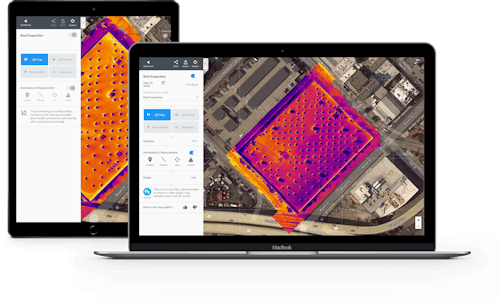 Inspections
Just like upstream companies, downstream operations have many complex facilities and assets that need constant monitoring. Drone imagery empowers companies to get "eyes on" areas that are generally dangerous and time-consuming to access via scaffolding, cranes, rope access, or helicopter - the previous methods used before drones became widespread. Drone technology enables inspectors to keep away from dangerous hazards, such as being airborne, elevated, or working in close proximity of combustible chemicals.
DroneDeploy, through its thermal mapping and Live Map solutions, empowers downstream companies to get precise insights into their live flare stacks, storage facilities, pipes, roofs, cooling towers, and more. DroneDeploy helps workers assess steam systems, identify structural issues, or damage from environmental conditions. High-resolution images and thermal insights can help you determine which assets may have developing problem areas and empower you to be proactive about addressing trouble spots before they get worse.
Having more insightful inspections enables downstream companies to prevent plant shutdowns, cut down maintenance time, and perform inspections without stopping operations (more to come on this last point).