We partnered with Corteva Agriscience, which has the largest commercial drone deployment in the US with over 1,200 global pilots, to bring this solution to life. They've developed a machine learning algorithm specifically for stand count, and it has been trained using more than 10,000 customer fields.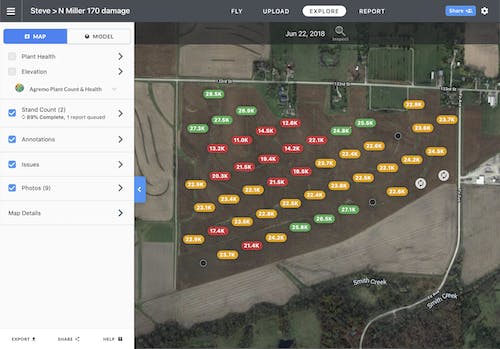 DroneDeploy Stand Count solution is simple, powerful, accurate, and completed entirely within DroneDeploy. First, define your field area, then customize your mission plan based on crop type (we support corn & soy at launch). Terrain Awareness is automatically enabled, ensuring a safe flight and consistent capture height. You'll be able to cover 200 acres in as little as 15 minutes, with an interactive map and PDF report available just after the drone lands – entirely offline. AI identifies areas of good, moderate, and poor emergence with summarized population scores, gap counts, and annotated images, all automatically compiled in a report that you can share via text or email. If you want to investigate problem areas further, use the GPS marker on the DroneDeploy app to navigate to a field's precise location.
All the analysis happens on the mobile device, so no need to upload images or use SD cards. For enterprise customers, all that data is accessible via our API and synced to the web portal for additional sharing capabilities.
Stand Assessment available to Precision Agriculture, Business Yearly, and Enterprise Plans