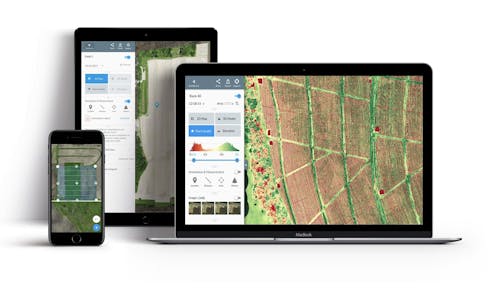 Drone Software is More Reliable Than Ever
Back in the day, getting drones to talk to computers was no easy task. And it wasn't uncommon for drone imagery to take a day or more to process, if you were able to process at all. Thankfully, that's no longer the case. We've made huge strides in what's possible with DroneDeploy's cloud-based platform and image processing capabilities. Not to mention you no longer need ground stations or PCs to communicate with your drone. You can now head out into the field armed only with a drone and tablet to collect high-res imagery in minutes with our simple, easy-to-use mobile app at your fingertips.
Seamless Image Stitching is Now the Norm
If you flew your fields late in the season over the past few years, you more than likely experienced stitching issues similar to the images below. Why? Because image processing engines at the time weren't designed to handle late-season homogenous imagery like that of a corn or soy bean field. These images often resulted in "holes" appearing in your processed map, which isn't very helpful if you're trying to crop scout. We've since put in a lot of work to fix this, and the results are exciting. "That's the biggest thing that has changed with this software," said Chad on the webinar.