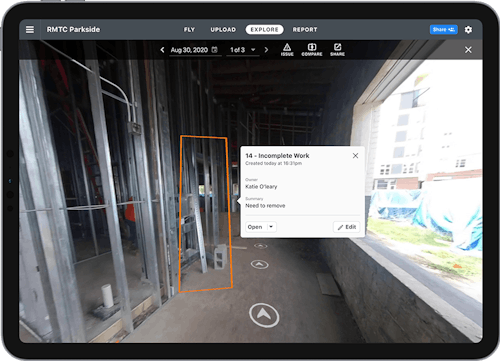 Quickly & Accurately Verify Property Value
Any financial institution, lender, bank, or credit union knows what it takes to assess risk accurately: and it all starts with accurately verifying property value. The best way to do this is with high-resolution photography, videos, and easy-to-understand 3D models. DroneDeploy is the only way to get a comprehensive view of any property, inside and out. 360 Walkthrough allows you to overlay interior and exterior data, giving all stakeholders a complete picture of what they're assessing. This kind of data will enable lenders to accurately verify property values without having to look at grainy photos and relying on the word of third-party assessors.
What's more, using drones for data capture is exponentially faster (not to mention less expensive) than hiring a plane or helicopter to verify property value. Even using satellite imagery doesn't provide the same quality or speed a drone data does. With DroneDeploy, you'll be able to assess more properties faster while simultaneously determining the true value of both commercial and residential properties using our tailored aerial inspections.