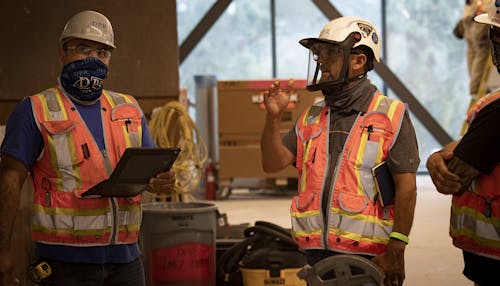 Democratizing Data for Your Organization
Data is crucial for managing unpredictability and scaling growth. In this session, you'll learn how DPR Construction established its internal drone program and grew to utilize a drone on every job site. With pilots capturing an average of 1,370 photos per day, DPR shares their best practices for quick collaboration between teams. Tim Conroy, NE Field Technology Group Lead at DPR Construction, is the featured panelist for this session, with Jester Banks, Enterprise Account Executive at DroneDeploy, moderating. A live Q & A will be held after the panel discussion.
"Democratizing Data: Best Practices for Driving Collaboration & Problem Solving," Tuesday, October 13th, 2020 10:00 AM - 10:30 AM PDT
Maximizing Your In-Flight Productivity
We're excited to share our newest product releases throughout 2020! This session will give you an in-depth look at DroneDeploy's Mission, Live Stream, Live Map, and Manual Flight features. Our customer speaker, Glenn Easton, Web Programmer at CHA Consulting, will share real use cases and detail how DroneDeploy aided the organization in 250+ flights in the last year. Other speakers include Chad LaFrance, Enterprise Solutions Engineer at DroneDeploy, and Kaitlin Blando, Customer Support Specialist at DroneDeploy. Attendees will also have the opportunity to ask questions in the live Q & A immediately following the discussion.
"Maximize Your In-Flight Productivity with DroneDeploy," Tuesday, October 13th, 2020 10:00 AM - 10:30 AM PDT