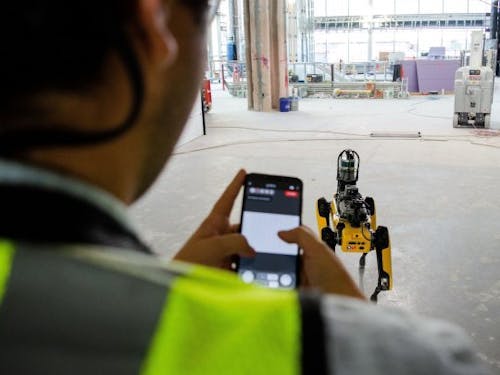 Automating Your Job Site
Start the day off strong with our keynote session! Join our Co-Founders Jono Millin and Nick Pilkington in a conversation with Boston Dynamics' Construction Technology Manager, Brian Ringley, as they discuss the future of mobile robots in complex environments. Later, they'll be joined by Brasfield & Gorrie's Innovation & Operational Techs Hunter Cole and Jake Lovelace, who are currently using Boston Dynamics' Spot on their construction sites. Receive a firsthand account of how this ENR 400 construction company uses DroneDeploy software to conduct daily walkthroughs, record issues, and thoroughly document projects.
"Keynote: The Future is Here - Automation on Your Job Site," October 14th, 2020 9:00 AM - 9:45 AM PDT
Streamlining Inspections
Listen as Jacques Wagner, thermography expert and GM at Centre de Thermographie du Canada, guides attendees through creating their own 2D and 3D maps and models. Our Enterprise Solutions Engineer, Josh Voelker, and Enterprise Support Specialist, Lindsey Huffman, will run through the Inspection Workflow and detail how to annotate problems and resolve issues across teams. This is a great workshop for those interested in large-scale collaboration or vertical inspection. A live Q & A will immediately follow this session.
"Streamlining Inspections in 2D, 3D & Vertical," October 14, 2020 9:45 AM - 10:15 AM PDT