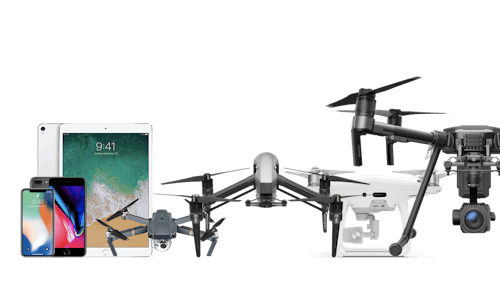 Live Map Supported Drones, Cameras, and iOS Devices
Supported iOS Devices
At this time, Live Map only supports iOS devices (sorry Android users). Because Live Map is an intensive program that uses cutting-edge computer vision, it requires a powerful processor and ample RAM to run smoothly. Newer iPhones and iPads — especially the iPad Pro — will provide the best experience and highest quality Live Maps.
Customers using older devices, particularly the iPhone 6s, may experience some difficulty generating Live Maps for missions that are longer than 10 minutes in flight time.
We recommend using one of the devices listed below:
iPhones: iPhone 6s or later (Sept 2015)
iPad: iPad Air 2 or later (Oct 2014)
iPad Mini: iPad Mini 4 (Sept 2015)
Supported Drones and Cameras
Live Map is currently only compatible with DJI drones. And just like mobile devices we mentioned above, using a newer drone will yield better results.
Below is a complete list of supported drone platforms* for Live Map:
DJI Phantom 4
DJI Mavic Pro
DJI Phantom 4 Pro and Phantom 4 Pro Advanced
DJI Inspire 2 (X4S only)
DJI M200/M210 (X4S only)
*At this time, we don't support modified RGB cameras, such as those often used in agriculture.